Our Founder
Biography of Late Shri Shiv Charan Mathur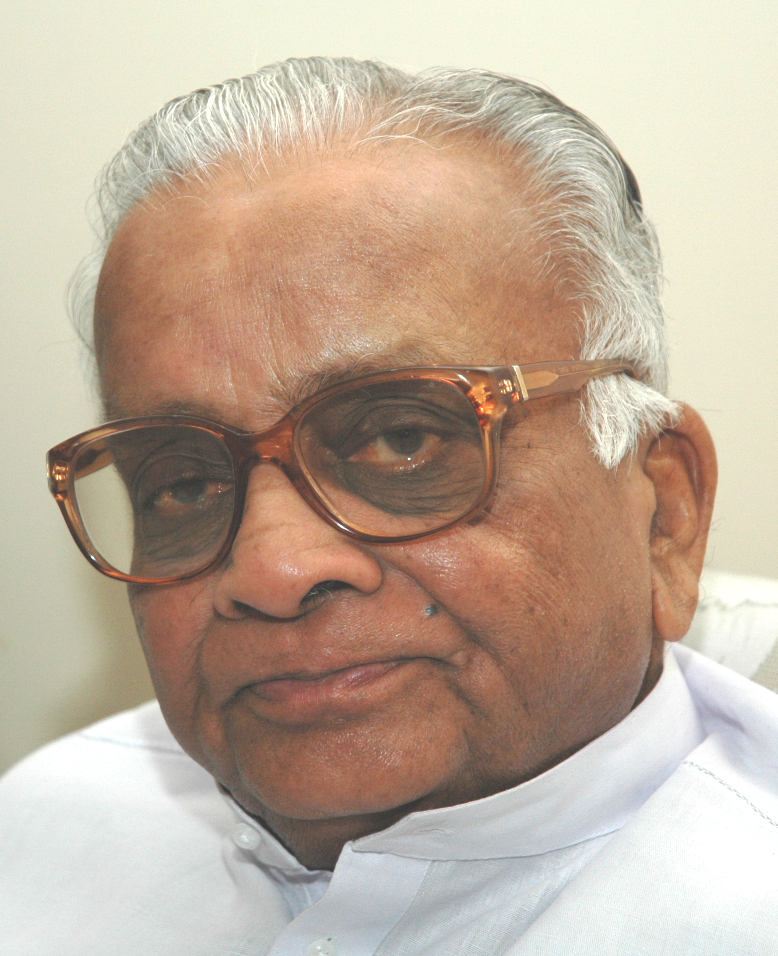 Early Life
Shiv Charan Mathur was born on 1926 in a small village of Guna district of Madhya Pradesh on the sacred day of Shivratri that inspired his parents to give him this name. Forced by adverse family circumstances, Shiv Charan, when he was only four years old came with his mother to Karauli to live under the guardianship of his nana, Bhanwar Lal.
It was here that the name of Shiv Charan's father had to be changed to Durga Prasad because of his being name sake of his nana. Shiv Charanji's elder sister, Sarla Mathur whom he treated like his mother records in her memoirs that she and her brother continued to live in Karauli till they were in teens. In 1941 when Gandhiji gave the slogan of 'Do or die' , Shiv Charan as a high school student had joined the stir because of his patriotic sentiments since early childhood. Later, they shifted to Ujjain for higher education. After a brief stay there both brother and sister moved to Udaipur where Shiv Charan alongwith his studies started his participation in the Prajamandal activities. As Sarla Mathur recollects "It was in 1945 that the convention of State People's Conference was held at Udaipur in the distinguished presence of Pt. Jawahar Lal Nehru. This was a great occasion when political leaders including Sheikh Abdullah and a great galaxy of leaders of Rajasthan thronged to deliberate upon issues related to the problems of the people of the erstwhile princely states." Sarlaji further adds: "The convention suddenly wore a festive look, when wedding ceremony of Shiv Charan Mathur with Sushila Devi daughter of fire-brand political leader, Manikya Lal Verma took place there on the spot with the blessings of Nehruji. The marriage was solemnized in accordance with the Hindu customs. Jai Narain Vyas and his wife did the Kanyadan while Gopi Krishna Vijayvargiya, then a front ranking public figure of Madhya Pradesh and his wife represented the bridegroom's side. Both Shiv Charanji and Sushilaji were then heading the boys' and girls' wing of student volunteer corps, recollected Shri Dushyant Ojha, an eye witness and a family friend. After sometime, Shiv Charan went to Mumbai for a few months to take training in labour law and later did brief stints at Bhilwara mines.
Career
After the dawn of independence, Shiv Charan Mathur's political life started in full swing when he was asked to fight the municipal election at Bhilwara in 1957 and became the Chairman of the Municipal Council. Since then he continued to climb the ladders of success in public life holding important offices including those of Chairman, Zila Parishad Bhilwara (1960-64), Member of third Lok Sabha (1964-68), Member of tenth Lok Sabha (1991-96), Member of Rajasthan Vidhan Sabha for six terms (1967, 77, 80, 91, 98, 2003). Minister in Rajasthan Cabinet (1967-72), Minister (1973-77), Chief Minister of Rajasthan (1981-85, 88-89), Chairman, Administrative Reforms Commission (2000-2002), Governor of Assam (4 July, 2008 – 25 June, 2009).

Founding of Social Policy Research Institute
Shri Shiv Charan Mathur, with a deep sense of commitment to social upliftment of the down trodden, had established Social Policy Research Institute on 9th September 1985 to fill in the space for genuine and constructive probe into the causes responsible for a large section of the people still living below the poverty line.

Shri Shiv Charan Mathur, with a vision and missionary zeal, will always remain a beacon to illuminate the Institute's path towards excellence in its research work for the benefit of mankind. In the fond memory of its founder, the Institute is determined to pursue research in social sciences, taking up issues relevant for the welfare of the people, with perseverance and commitment. Social upliftment, based on equity and secular values, dear to Shri Mathur, will remain the cardinal principle, guiding all its academic endeavours.

Shri Shiv Charan Mathur passed into the political history of Rajasthan on 25th June last. In his passing away, the state has lost a visionary politician, a leader of lofty values in public life and a staunch advocate of the deprived and poor sections of society. For him, the yardstick of good governance lay in the efforts towards mitigating of sufferings of the common masses. He was indeed a multi-faceted personage gifted with great intellectual assets.
Chat with
Smt. Pratibha Devi Singh Patil
Ceremony at Raj Bhawan
Guwahati
Seminar organized by the
Institute
Family members and
Smt. Sonia Gandhi
Mani Shanker Ayer at a Seminar in Rajasthan
Foundation Stone of Social Policy Research Institute
Publication

A Journal of the Shiv Charan Mathur Social Policy Research Institute. It is a part of the endeavour of the Institute to develop as a Centre of Excellence in the field o...